So, you decided to pick Tilaa as your next cloud partner. Soon you will be able to enjoy benefits such as excellent support, infinite up- and downscaling and many more. But first: how to use your Tilaa server for the first time!
Dashboard overview
When logging in at My Tilaa, you will first see an overview of your chosen products and services: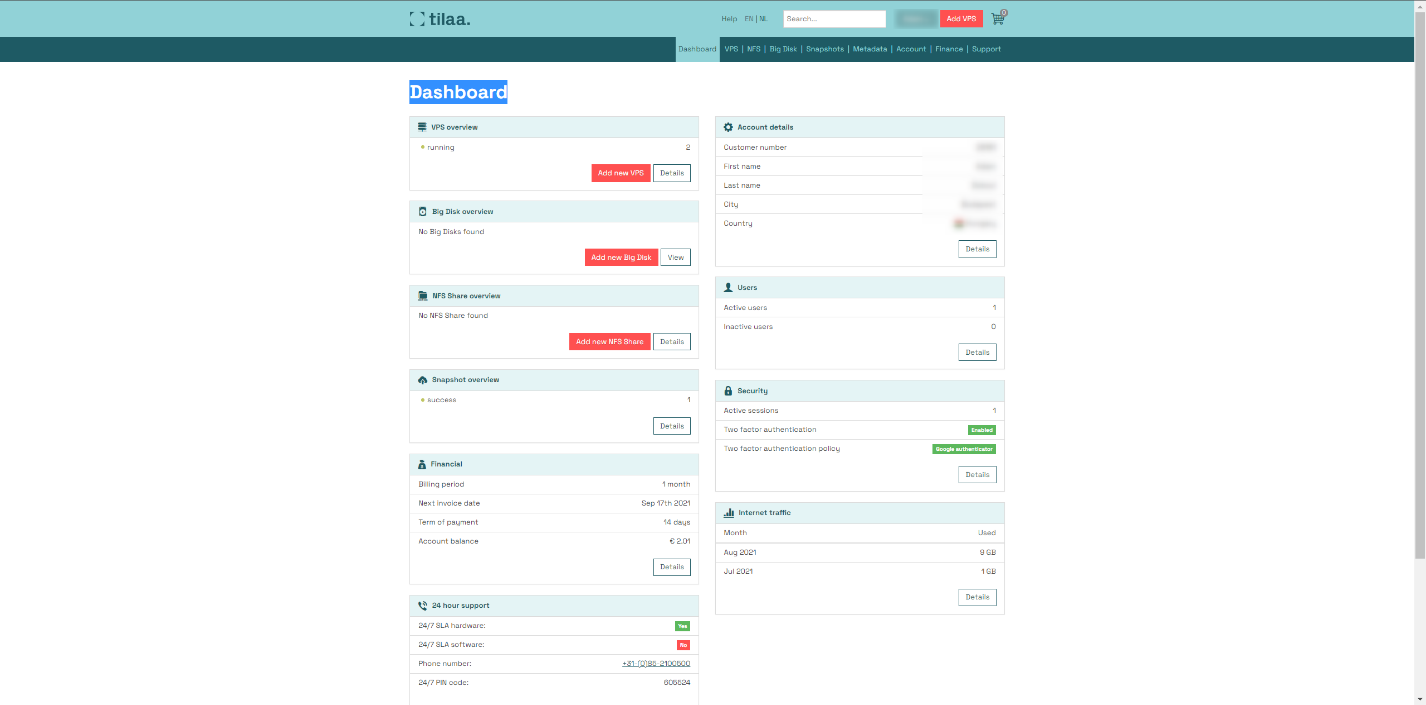 You can view the following information and perform certain tasks:
The VPS overview lists all of the Virtual Private Servers that are associated with your account. The following operations are available on the overview page after selecting the VPS: reboot, start/stop servers. You can also view server information, manage IP addresses, and analyze data traffic consumption, among other things.
You can change information about your account on the Account details page, such as your first name, last name, address, and so on. Another useful feature is the ability to manage users associated with your client account with ease. A user can be added or removed, as well as promoted to master.
Big Disk allows you to add an extra disk with considerable storage capacity to your VPS. The following commands are accessible on the dashboard page: Add or manage your available Big Disk.
Setup a High Available NFS Share to share files between multiple servers. The dashboard works in the same way as the Big Disk Overview. You can create new NFS shares as well as manage existing extensions.
To improve security, you can add an additional login step to your account. Following your standard login, you will be prompted to enter a security code with two-factor authentication (2FA).
The Snapshot overview page shows all Snapshots you've previously made and allows you to manage them.
Via Finance, the following operations are available: view billing activity, adjust billing settings, add credit or change the payment method.
You can see how much internet traffic you've created over the course of a month.
Tilaa offers support 24 hours a day, 7 days a week. You can contact us by submitting a ticket through the support portal, sending us an email, or calling us. When contacting us by phone, please keep your customer number handy. It will be required to respond to any phone inquiries. If you're contacting us about an existing ticket, please have the ticket number handy.
How can I log in to my server?
Tilaa provides several different ways to access your VPS.
Video Display
All Tilaa VPSs come with a web-based console. This console allows you to interact with the VPS in the same way that you would if you were sitting in front of a physical computer. Even if your VPS isn't responding over the network, you can use the console to see what's going on. If you're having issues with your VPS, one of the first places to look is the open video display.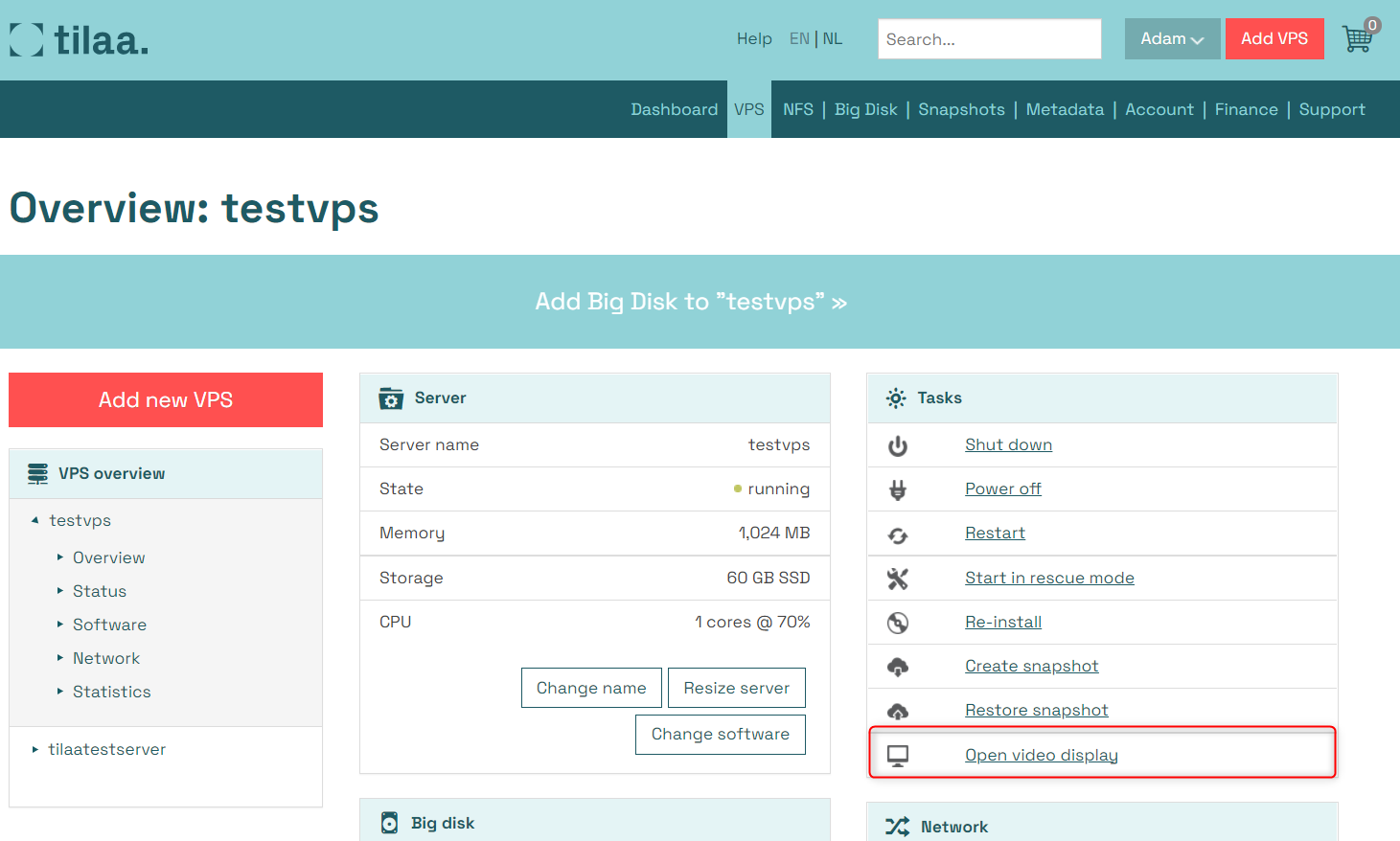 Linux VPS
You could connect via SSH. On all Linux VPS, SSH access is enabled. Secure Shell (SSH) is an encrypted connection that connects your computer to your server. The SSH TCP port is set to 22 by default.
Using a Linux or BSD computer to log in:
You can login with the following command on a shell:
ssh root@ip.ip.ip.ip 
Enter your root password when required.
Using a Windows computer to log in:
Although Windows does not come with an SSH client, there are a few possibilities. PuTTY is most popular. Run the software when it has been installed, and when prompted, enter your server's IP address.
Using a Mac OS X computer to log in:
You will need to open a command prompt on your Mac to get access. Use the following line:
ssh root@ip.ip.ip.ip 
Enter your root password when required.
Windows VPS
Windows servers are delivered with Remote Desktop Protocol (RDP). The Microsoft RDP client is included in all current versions of Windows.
Using a Linux or BSD computer to log in:
To enable RDP sessions to servers, you will need to install a package. Some of the most popular clients for Linux are 'Remmina', 'rdesktop' and 'krdc'.
Using a Windows computer to log in:
You do not need to install anything because the Remote Desktop Connection application is already installed.
Using a Mac OS X computer to log in:
Additional software is required to establish a remote desktop connection. Popular macOS client is 'CoRD'. Run the software once it has been installed and input your server's IP address when prompted.
Where can I find my server password?
The login details server displays (in plain text) the unique random password that was assigned to the VPS after it was created.
The password is the primary credential for the operating system. On a Windows VPS, this is the password for the Administrator account, and on a Unix-based VPS, this is the password for the root account.
When you change the password for the Administrator or root accounts manually, Tilaa will not know the new password, and the password displayed here will no longer work.
In the menu bar, select VPS.

Click on the VPS which you want to check the password.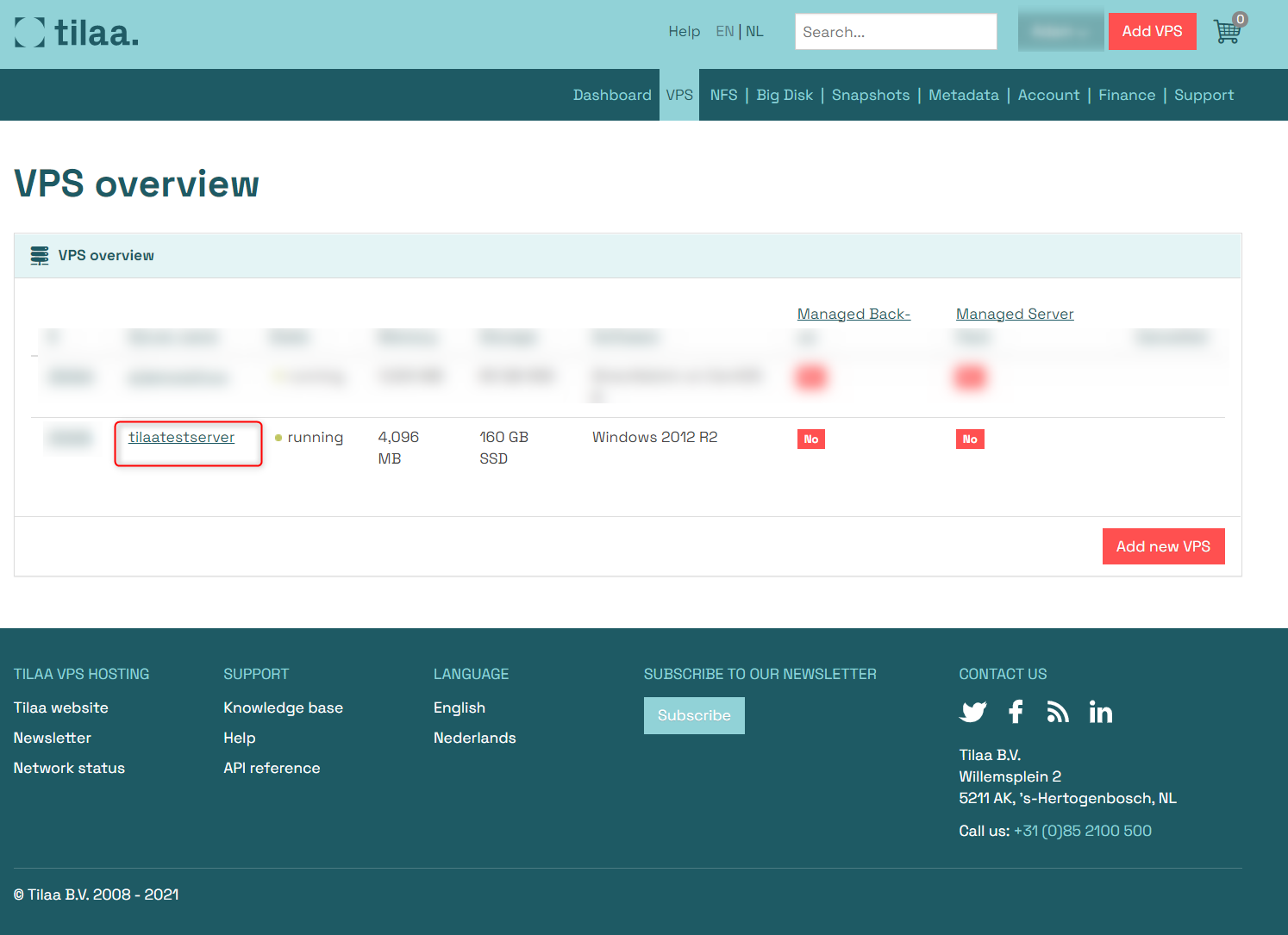 You can find the Root password in the Login details server box.