Managed backups are a complete copy of your VPS. Using this feature, you can ask for specific files or entire folders to be transported back to the VPS of your choice.


How can I request managed backups
You are given the option for managed backups when you create a VPS; You can also start this by resizing or reinstalling the VPS.


How can I request this on an existing VPS
When you open the VPS dashboard, and scroll down to Software. You can see what software is running on your machine you also see the option Managed back-up.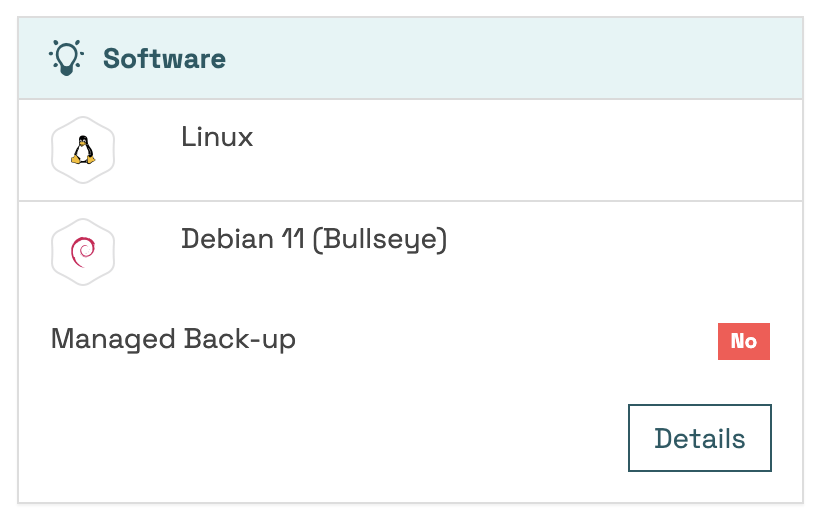 Click on Details, you will be forwarded to a new screen where you can enable/disable the managed Backup service.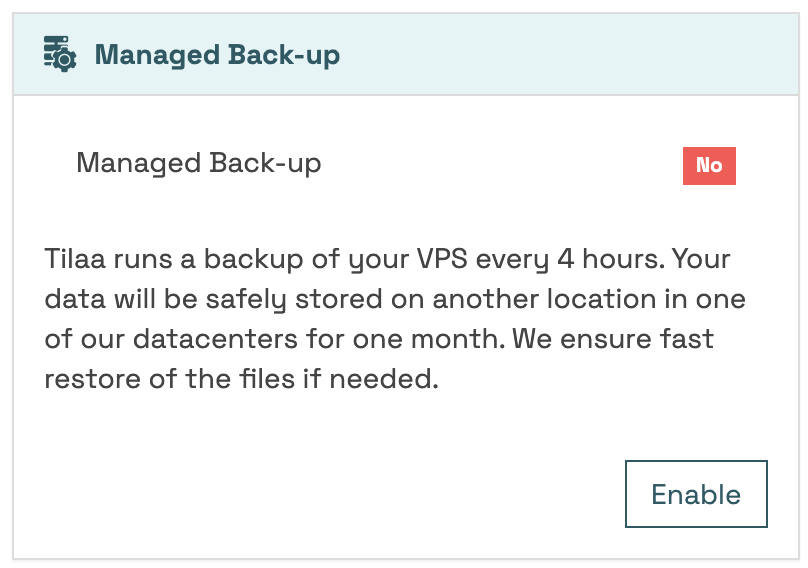 Once it is enabled, support will then be notified via email and will configure it.
The root account password must be set to the default password you received when the VPS was initially configured in order for managed backups to be enabled. If you hover your mouse over the password under the VPS overview, it will appear.


How often does the managed backups take place.
The backups take place in the following interval:
1 backup per 4 hours of the past day (6 backups)
1 backup per day of the past week (7 backups)
1 backup per week of the past month (4 backups)
We will keep the data for one month, after which it will be destroyed and no longer be possible to retrieve it.


Where are the backups stored
The backups are stored in an off-site datacenter by default, this means if your VPS is located in Haarlem the backups will be created in Amsterdam.


Is there monitoring in place
Monitoring is in place, once a backup fails to be created, we get a notification. We will investigate why this is happening and inform you about this. And resolve this issue as soon as possible.


How can I restore files from the backup that has been created
You send an email to support with the request for the file you want to be recovered.
It helps if you know the specific path where we need to search and from what date you want to be recovered.


Security considerations
In order to access all files, we need to log in as root, because non-root users do not have the required read access to many files. The ability to SSH into a machine using the root user is contrary to common best practice of disallowing root access through SSH. To keep your server secure, we advise configuring sshd_config to "PermitRootLogin without-password" after our initial configuration is completed. This takes away the possibility of doing brute force password attacks, which is the biggest problem in allowing root access for SSH.
For the initial setup, we need access to your server through SSH as root with password authentication enabled. During the initial setup, we'll place an RSA public key and a wrapper script onto your server. Please contact our support desk if you have your SSH daemon running on an alternative port.
After the initial setup, we'll use key-based authentication, restricted to only use rsync. Also, we limit the access to one specific server.
We have considered alternatives, including the option to use passwordless sudo, but this doesn't lead to a safer environment than just using root and is considerably more convoluted. All alternatives will still lead to root access, but with the added downside that it's not explicit about having root access.